100% Pure Bamboo Bliss
Wooflinen 100% Bamboo Sheet Set Matte White Modern Look Breathtakingly Soft Sheets (King)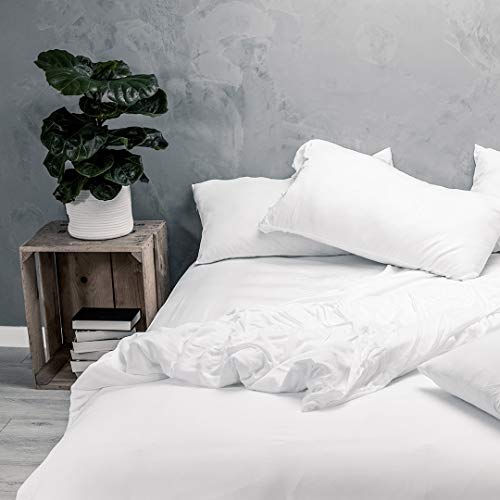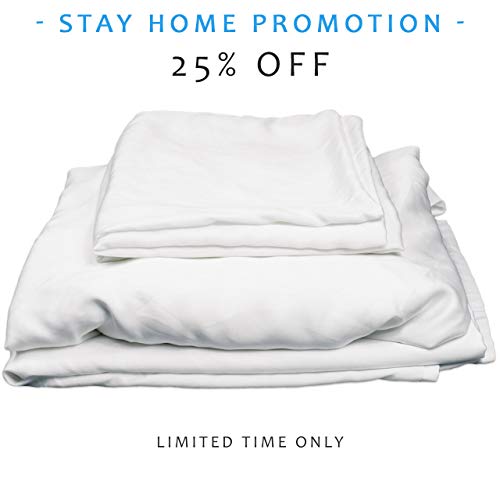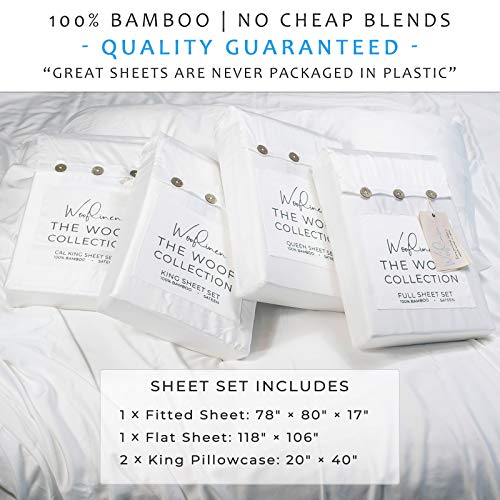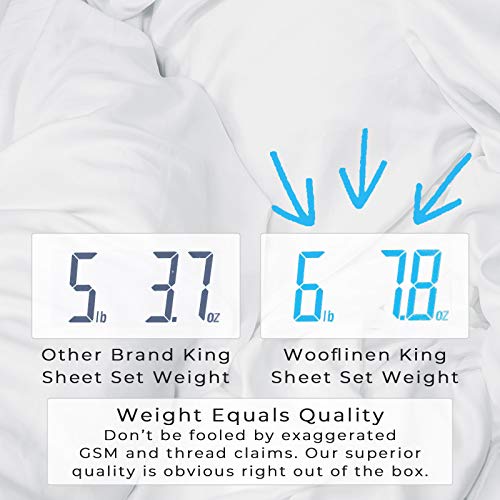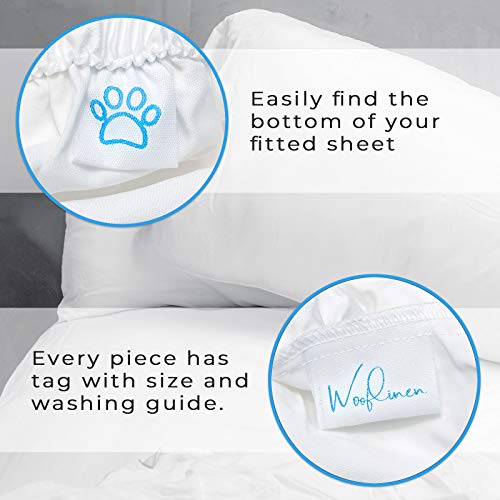 Go to Amazon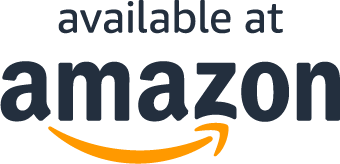 About the product
☁️ PURE BAMBOO: Wooflinen's 100% Bamboo bed sheets are so incredibly soft, that we describe the fabric as the lovechild of Egyptian Cotton and Silk. Double the softness of cotton, get ready to invest in a better alarm clock.

☁️ CLIMATE CONTROL: Our 100% natural and totally BREATHABLE materials resist bacteria, wisk moisture and are HYPO-ALLERGENIC. The breathability of our bamboo sheets ensures you never experience that "oven effect."
☁️ ECO-FRIENDLY: Not only does bamboo use 1/3rd the water of cotton, the renewable resource does not require pesticides and chemicals to grow. Though comfort and quality are our number one priority, environmentally friendly products give us another reason to sleep easy.
☁️ NATURALLY SUPERIOR: Our 300 THREAD COUNT bamboo sheet sets are more durable and far more comfortable than cotton, while also improving with every wash. But you won't have to wash them that often. As an added bonus, the fabric's breathability and moisture-wicking technology make it naturally hypo-allergenic and anti-bacterial. A fact that allows for better sleep, better skin, better health and better laundry.
☁️ SHEET SET: This 4-piece King bamboo sheet set includes 1 deep (17") fitted sheet, 1 flat sheet and 2 deep enclosure pillowcases. All items are double-stitched to ensure long-lasting quality. Sheet set is OVERSIZED. To compensate for today's larger/deeper mattresses, our sheet sets might fit slightly large. Bamboo SHRINKS about 6% over the first half dozen washes. So please BE PATIENT for the perfect fit.
What Our Customers Are Saying
Soft and luxurious
Soft and luxurious
Breathtakingly Soft is 100% True
Wow! I am a die-hard crispy percale sheet lover from way back, but these sheets are amazing!!!! They are so soft they feel silky. They aren't silky satin-like sheets at all though, don't misunderstand me. These are something new, they are unlike anything I have run across before. They only feel silky because they are so soft and breathable. They stay cool, even though the fabric is pretty thick. These are easily the thickest sheets I have ever had and I can't believe that I like them, but I do, I love them.These had washed up beautifully and come out of the dryer wrinkle free will no pills thus far. They are a deep pocket set, and there is plenty of room left over on the fitted sheet after making up my very thick pillow top bed. They are also extra long, so there is plenty of flat sheet to tuck in at the bottom and still have extra fabric at the top to fold over my duvet. The pillow cases are generous as well and fit over my very plush shredded memory foam king sized pillows.I can't find a thing about these sheets that I do not love! If you are looking for a soft spa-like feeling sheet that will make you excited to get into bed at night because the sensation will relax every bit of tension out of your body then you should buy these!
Soft and comfortable
These sheets feel fantastic. I put them on my bed a few nights ago and don't ever want to take them off. I washed them before use according to the Amazon description instructions. No problems there.They fit really well and actually seem a little oversized. I have an 11-inch thick mattress with mattress pad on top and still didn't need to stretch the fitted sheet to get it on. I really like that because my last set of sheets kept coming loose because it wasn't deep enough. The fitted sheet is quite long and tucks under the mattress far enough that it hasn't pulled loose either. Those are my two pet peeves when it comes to sheets. I don't have any king-sized pillows, so I haven't used the pillow covers yet.They feel soft and smooth against my skin and are very comfortable to sleep in. The quality is very good. I had never heard of bamboo sheets before getting these, but now I'm sure I will consider them in the future. I'm certainly going to consider getting the duvet cover.They seem a bit pricey compared to other 100% bamboo sheets sold on Amazon, but given the comfort, quality, and look perhaps they are worth it.
Love, love this material!!
Got a queen duvet cover. Not cheap, but the material is so soft and silky and so comforting! It feels both warm and cool at the same time, something I also noticed with a real silk pillow case I got. Love it.The duvet cover has a nylon zipper the runs along most of the bottom seam, except for the last foot or so on each end. The raw edges of the material inside are bound, but the seams are single stitched. Hopefully that will not be a weakness. Washed and dried well so far. Arrived folded in a bag made of same material with a 3 button closure. Cute.Will update if necessary.
Omg! EXACTLY what I've been hoping to find!!!
Ok, SOI bought sheets from Bed Bath and Beyond years ago and they were AMAZING. So silky soft and so comfortable! I absolutely loved them! I went to buy a second set a year or so later and They had changed the fabric. Same name, completely different set of sheets. Since then I have checked other brands of sheets hoping maybe I'd find a set as wonderful as my old ones. I hadn't... UNTIL NOW! These are so soft. I love them so much! If there's one thing I find to be a good investment and never mind spending money on, it's nice bedding. These sheets are absolutely worth it! I've washed them and they held up fine. The fitted sheet was a little bit tough to get on but it still fit. The bag they came in is also super cute and huge bonus they support animal shelters! There's nothing I don't love about these sheets. I'm so thrilled to have discovered this brand.
Questions?
Does this include free shipping?